EO Lifesaving BV is responsible as an authorized service station of J. Xinjiang- Wolong (free-fall,- life,- rescue,- and fast rescue boats) and Zhenjiang Marine Auxiliary Machinery (davit systems) for the annual 5 years survey of your vessel or offshore platform.
We ensure the availability of our service engineers all over the World.
Constant technical assistance and immediate availability of skilled experts are only some of our strengths.
We can offer you a full range of services:
• Installation of your life saving equipment.
• Commissioning of your life saving equipment.
• Annual and 5-year survey on lifeboats, rescue boats, launching appliances and release gears.
• Load test with water bags.
• Maintenance and repairs.
• Genuine spare parts supply.
• Instruction and training programs of customers during service work on above mentioned products.
Partnership with CRALOG
CRALOG – Alongside – EO lifesaving facilitate certification through a database intended for service engineers, ship owners, Vessel and Offshore management companies.
The CRALOG Academy is recognized by the Danish Maritime Authority
CRALOG and EO lifesaving work closely together under the name 'Alongside' and have established a global network with service engineers / distributors, these activities are carried out by service engineers who are trained Multi purpose, and have the following approvals:
– Manufacturer training certificate
– Classification approval as authorized service supplier
– Flag state approval as authorized service provider
The aim of this network is to simplify and perform service / certification related to lifesaving appliances, deck cranes and gangways.
Besides service, CRALOG – Alongside -EO lifesaving distributors delivers also new and used lifesaving equipment.
CRALOG – Alongside – EO lifesaving service engineers / distributors take care of inspection, repairs, certification and making reports on ships and offshore installations. All inspection reports and certificates are stored in the CRALOG – Alongside – EO lifesaving Database.
For ship owners, Vessel Management and Offshore companies it is easy to request certificates and inspection reports via the automated certification system 24/7, 365 days a year.
It is also possible to search the database for a service engineer / distributor in a port of arrival or in the immediate vicinity of the port.
Through this system, we offer fast service that is always available.
Direct contact via the website, e-mail and telephone is also possible.
When a service provider/ distributor is temporarily not available it is also possible to contact CRALOG – Alongside – EO lifesaving, they will assist in finding an available service provider/ distributor who can help to service on location in the fastest and most economical way.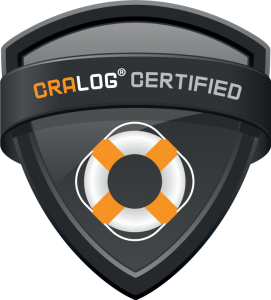 Optimal key points for ship owners, Vessel and Offshore Management companies:
– Online survey about certificates and inspection of lifesaving appliances, deck cranes and gangways.
– Global network of global service providers / distributors.
– Multi purpose trained service engineers on board.
– One service company on board for service instead of three service companies for your Lifesaving equipment, deck cranes and gangways.
– Know how.
– Approvals checked by manufacturer, flag state and Classification society.
– Online and direct delivery of certificates and inspection reports.
– Support, and delivery and commissioning of new equipment by EO lifesaving distributors.
Contact our service department for service pricing and getting the technical assistance you need.